News
Vitamins, Nutraceuticals and Trade Marks
Vitamins and nutraceuticals are big business.  By 2025, it is estimated that the size of the vitamin market in the EU will be in excess of €40BN.  Here are our top five tips to help you when you are considering registering a product.
1) Building a strong brand with a descriptive trade mark is an uphill struggle.  Try to choose something that stands out to differentiate your product or service from those of your competitors
Marketing teams often favour marks that immediately communicate something about your product or service or one of its attributes as such marks are intuitively easier to convey the product message to the intended consumer. In the short term, descriptive marks may help you to communicate what your brand is all about.  However, strong trade marks such as invented names are not descriptors and will generally offer greater protection.  From a legal perspective, descriptive trade marks are, at best, problematic and costly to protect and enforce.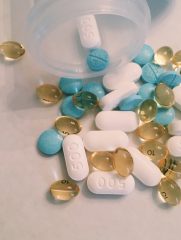 2) Keeping your brand out of hot water
In our experience, many companies will often invest heavily in the initial brand creation and promotion before realising that they cannot use that branding without facing legal action. If a third party has already registered or is already using "your" mark, or a confusingly similar mark, in relation to goods or services which are identical or similar to yours, then they may have earlier rights that could be used against you, should you attempt to register or use the mark. Appropriate availability searches can help to identify any earlier rights that could pose an obstacle to your proposed use or registration of a trade mark helping you to make an informed decision on any risks.
3) Invest in protection from the outset
We are often asked about the value of registering a trade mark, particularly if the company is still in its infancy. When a company is in its early stages, there are budget constraints and trade mark protection can be seen as an unnecessary cost. However ensuring that you are in a position to enforce and exploit your rights to the maximum benefit is key to building and maintaining a strong brand.
4) Beware of the regulations surrounding nutritional and health benefit claims in Europe and elsewhere
The regulatory area around vitamins and functional foods is complex and varies from jurisdiction to jurisdiction.  However, you should avoid choosing a brand which comprises an element which directly or indirectly makes a health claim which cannot be supported by evidence.  In particular, you need to be aware of the rules which apply in Europe to nutrition and health claims and in particular to common product descriptors as "low fat", "high fibre", "light/lite" or the commonly claimed or assumed benefits of certain vitamins
5) Speak to us
We have lots of experience in this field and in the adjoining fields of (a) food and drinkand (b) pharmaceuticals.   We are aware of the issues that arise in this field and have expertise in brokering co-existence agreements in this crowded field.